These are just a selection of designs from my wedding portfolio. Anything can be adapted to suit your colour scheme or alternatively I would be happy to work with you to create your perfect cake designed especially for you.
Two of my wedding cakes have recently been published in the Spring 2016 edition of Wedding Cakes magazine.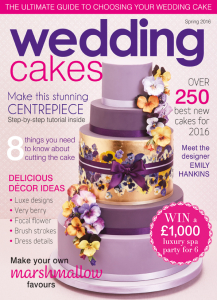 Wedding Cakes magazine is undoubtedly the most influential magazine for wedding cake fashion. For well over a decade, Wedding Cakes has championed the best of contemporary design, as well as being a go-to guide for developments within the industry. 
Rather than simply identifying trends, Wedding Cakes has become a creative force in its own right, showcasing new ideas and creating new trends. Europe's longest-running annual exhibition dedicated to cake decorating and sugarcraft.